The Kevin Cessna-Buscemi Global Citizen Scholarship offers opportunities for students who wish to participate in language immersion programs that do not require travel outside of the United States. Applicants choose whether they wish to participate in a Residential setting, in partnership with Concordia Language Villages, or in a Virtual Language Immersion Summer Camp offered by United Planet. This option is available for students who participate in the National Spanish Exam (NSE), the National Portuguese Exam (NPE), or the National Spanish Challenge (NSC).
Located deep in the North Woods of Bemidji, Minnesota, Concordia Language Villages offers youth overnight language immersion camps that are culturally authentic. Everything from the music played to the dishes served in the dining hall reflect the culture that each village is designed to represent, to create a fully immersive cultural experience. 
This year, two KCB Residential Global Citizen winners from Indiana and Virginia participated in a week of language and cultural immersion in Concordia's Spanish Language Village El Lago Del Bosque and the Portuguese Language Village Mar e Foresta. Keep reading to learn more about their experiences!
---
The Spanish Village
El Lago Del Bosque
Attendees at El Lago del Bosque are immersed in the sights, sounds, tastes and culture of the Spanish-speaking world. From Spain to Mexico to Argentina and beyond, the enthusiastic Spanish-speaking staff inspire camp-goers to learn, play, and enjoy traditional foods such as tamales, asado argentino (Argentine BBQ) and churros con chocolate. They also take part in cultural activities like telenovela (the Village soap opera), canto (singing) and stories around la fogata (bonfire). 
Una de mis partes favoritas de cada día era una actividad que se llama "pasaporte." En esta actividad, un/a consejero/a lideraba a un grupo de color a aprender más de una cultura. Durante el primer día, mi grupo probó una bebida de Paraguay hecho de mate que se llama "tereré." Fue muy interesante aprender más de la cultura en Paraguay por tomar esa bebida que para mí, supo a café y té en el mismo momento. También aprendimos varias cosas de países como Guatemala y Cuba como las fronteras de Guatemala y los carros viejos/antiguos de Cuba. Todo en todo, aprender más de culturas hispanohablantes hablando español añadía mucho a mi experiencia y la inmersión del campamento.

William
---
The Portuguese Village
Mar e Foresta
Did you know that Portuguese is the world's sixth most widely spoken language? Attendees at Mar e Foresta are immersed in the rich culture of the Portuguese-speaking world, with influences from Portugal to Brazil, to Mozambique, to Timor Leste, and beyond. Camp-goers enjoy traditional foods like top-it-yourself Rodizio de Pizza and Bibingka (baked rice cake). They also learn traditional drumming, paint their own máscaras (masks) and hone their skills on the futebol (soccer) field. The entire Village is made to resemble authentic architecture complete with a traditional central plaza and fountain to highlight the gathering place for sharing a dance or song. Each space at Mar e Floresta is customized for an authentic Lusophone experience, so that students not only get to learn how to speak a language – They also learn how to live the language!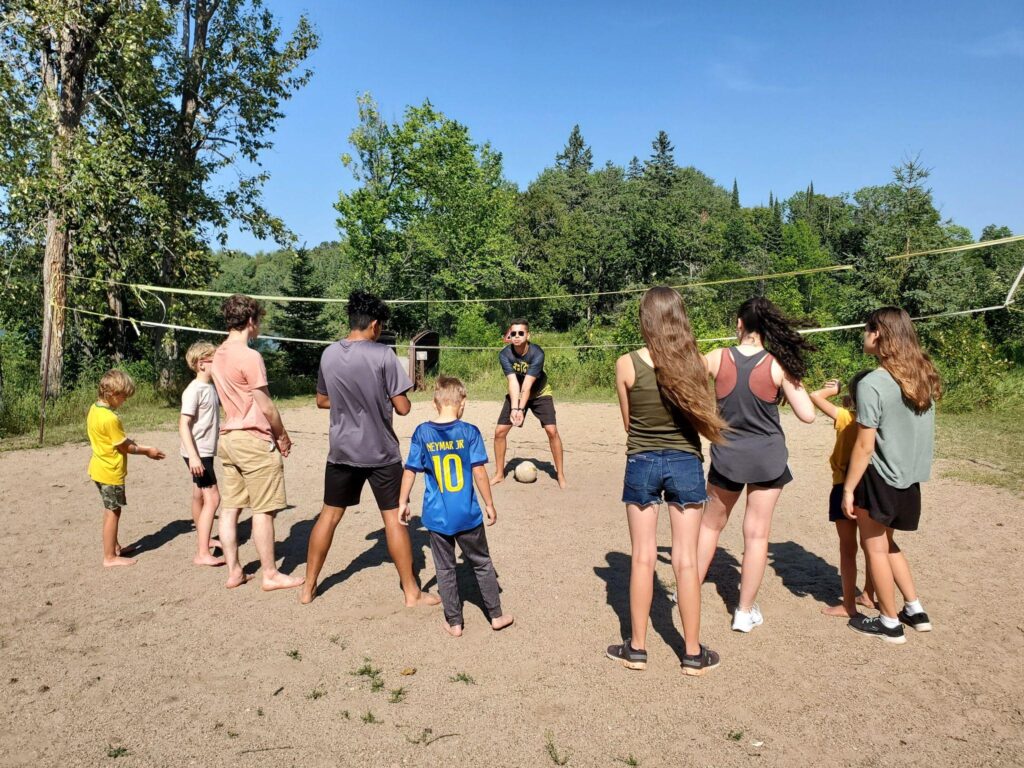 Además de hablar y escuchar portugués, todo lo que hicimos fue típico de brasil y otros países de habla portuguesa. Por ejemplo, cada día bailábamos al ritmo de canciones portuguesas con estilos de baile comunes de las regiones de las que provenían. Una canción que me gustó mucho fue «Olha a onda», la que trataba de una pirata y un barco. También solíamos comer comida de países lusófonos, como un plato mozambiqueño de arroz y mariscos en una salsa bien sazonada. Dos veces al día hacíamos una actividad llamada «bati-papo», en la que conversábamos y jugábamos solo hablando portugués. Para el bati-papo, los campistas fueron divididos en dos grupos, el básico y el avanzado. En el básico aprendían conceptos simples de portugués, como los números, el abecedario y las partes del cuerpo. Por otro lado, en el avanzado hacíamos cosas como crear un periódico y debatir sobre situaciones imaginarias.

Michael
Apply for the Kevin Cessna-Buscemi Global Citizen Scholarship!