OUR MISSION
Who We Are
AATSP Exams (NSE) is a program of the American Association of Teachers of Spanish and Portuguese (AATSP).
Our mission is to recognize student achievement and to promote language proficiency in the studies of Spanish & Portuguese. To this end, AATSP Exams (NSE) is committed to providing Teachers with assessment tools and offering Students opportunities to know their language skill ratings in vocabulary, grammar, reading comprehension, and listening comprehension.
---
OUR PURPOSE
What We Do
✔ To recognize achievement in the studies of Spanish & Portuguese
✔ To promote proficiency in interpretive communication in Spanish & Portuguese
✔ To assess the national standards as they pertain to learning Spanish & Portuguese
✔ To stimulate further interest in the teaching and learning of Spanish & Portuguese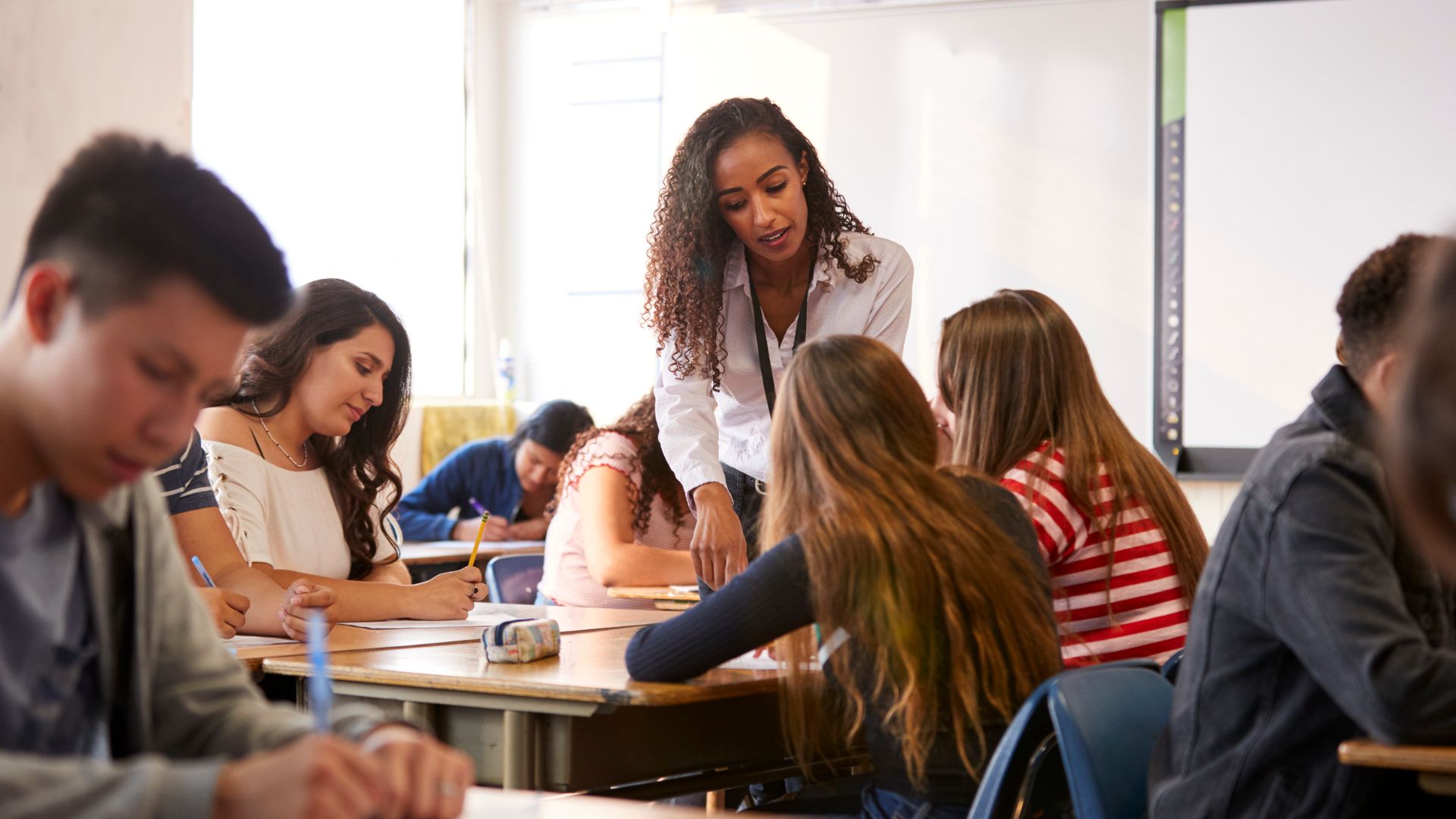 America's Largest Spanish Contest
The National Spanish Exam (NSE) is the most widely used Spanish test in the United States, also known as "America's largest academic Spanish contest." In the Spring of 2020, a total of 150,000 students in the United States registered for the National Spanish Exam, National Portuguese Exam, and/or National Spanish Challenge. The scores provided through the suite of Exams offered by AATSP Exams are recognized by numerous administrative and teaching associations and organizations at the local, state, and national levels. Even the National Association of Secondary School Principals (NASSP) had placed this program on the NASSP National Advisory List of Contests and Activities throughout various years.
OUR HISTORY
Over 65 Years of Examinations
From 1957 until 2005, the National Spanish Exam was administered in a "paper and pencil" format. From 2006 until 2021, the National Spanish Exam had been administered in an online format through the Quia Corporation and was the first National World Language Exam to be administered online. After the 2021-2022 academic year, like many other national exams the NSE switched exam platforms to Lingco Language Labs. In the meantime, the National Spanish Challenge (NSC) and National Portuguese Exam (NPE) were created to expand and further our Mission.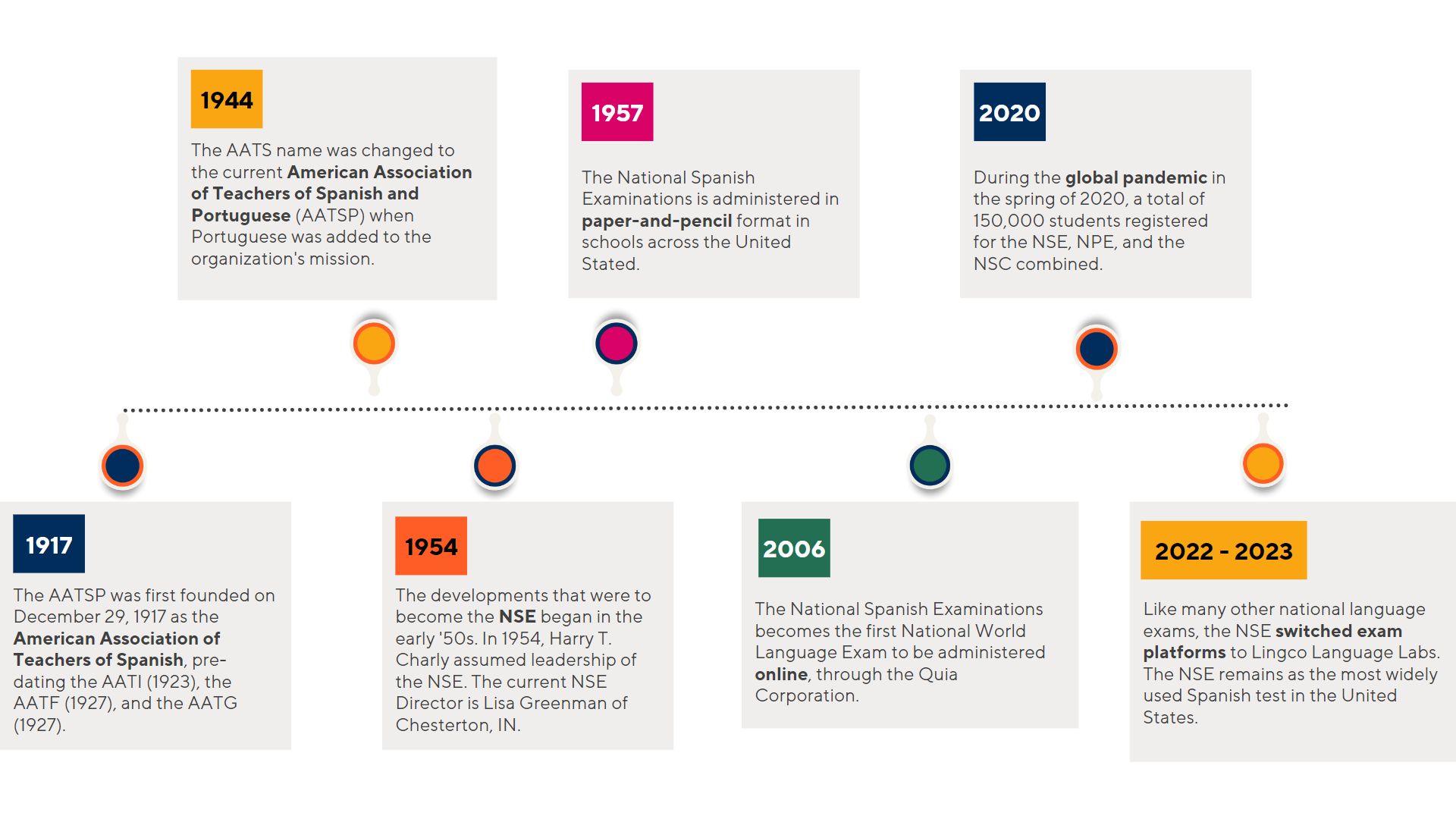 ---
TESTIMONIALS
What teachers say
about us
You all did an amazing job!
Thank you for stretching my students in Spanish and making my teaching better! My heart is so grateful for your important work! ¡Muchas gracias!
I loved the experience with NSE. As a first timer with the test, I was nervous. My students were engaged and motivated. I love the site and all the resources it offer (Lingco). I would love to get more involved in the process of testing and working with the organization to develop assessments.
I truly appreciate the help that the NSE office gave me. It was prompt, focused and invaluable.
Lingco is an awesome addition for us to use all year long in the classroom!!!
I love the NSE and the opportunities it gives my students.
Thanks for all your work over the years!!
Thank you for your hard work offering these opportunities every year. I know firsthand how thankless the task can be, but it is worth it because it benefits our future – our children!
---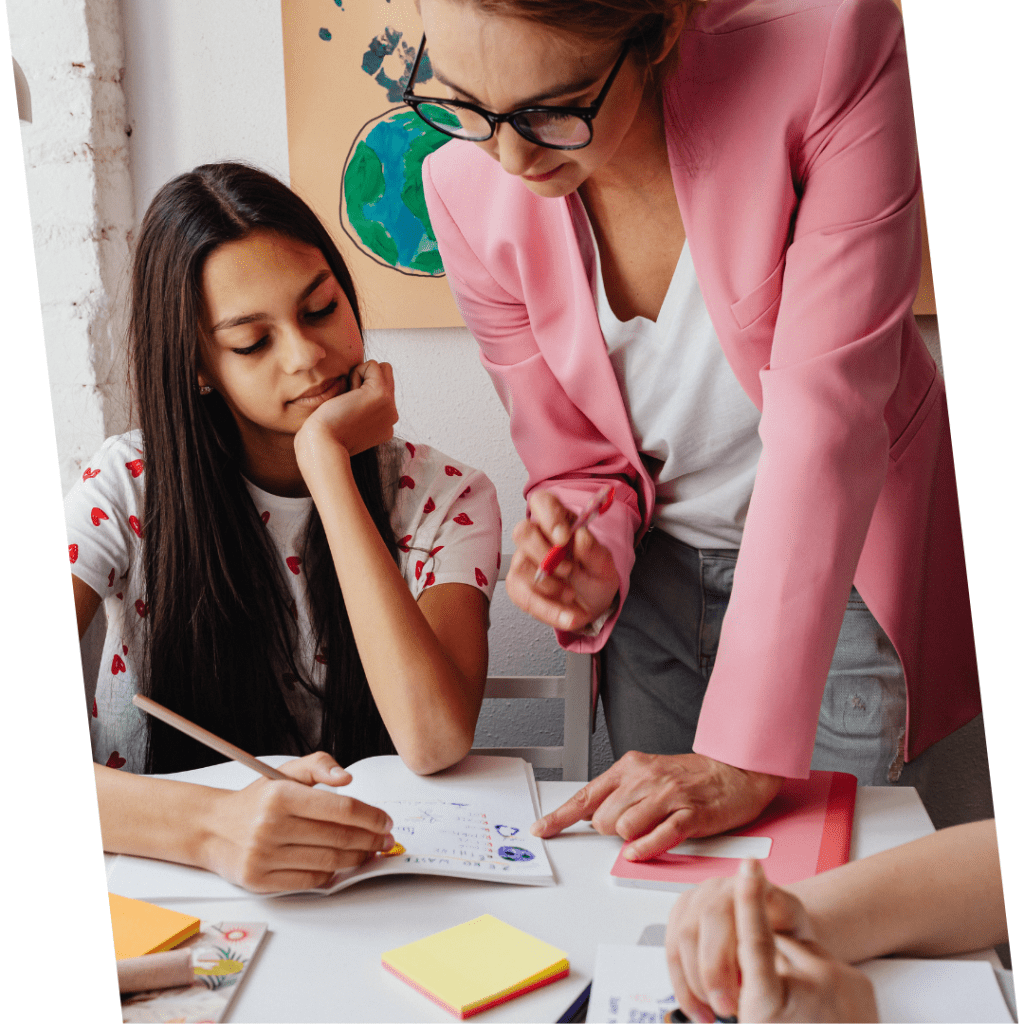 Become a Member
The American Association of Teachers of Spanish and Portuguese (AATSP) promotes the study and teaching of the Spanish and Portuguese languages and their corresponding Hispanic, Luso-Brazilian, and other related literatures and cultures at all levels of education.